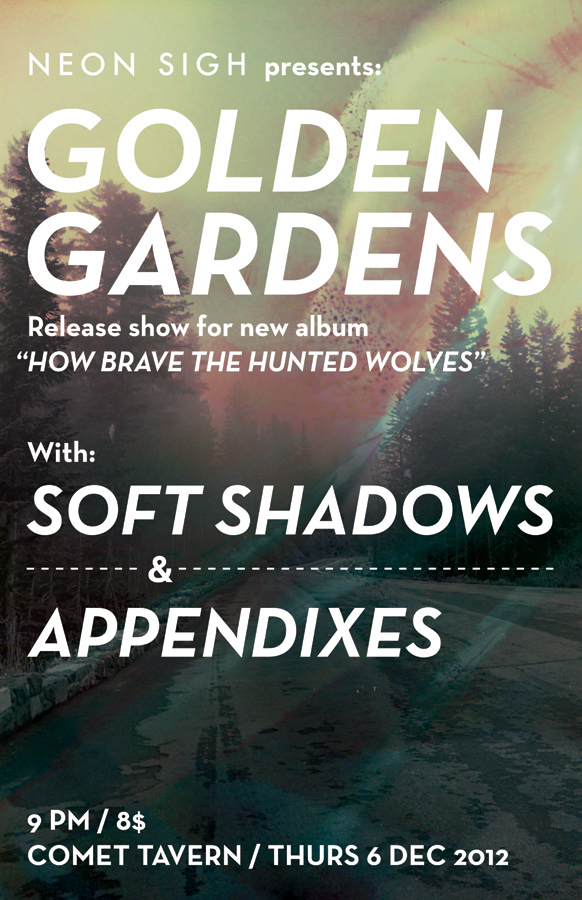 Golden Gardens
Soft Shadows (formerly Sundaze)
Appendixes
Kylmyys
6 Dec 2012 / 8:30 / Comet Tavern
New Seattle record label NEON SIGH and their most recent addition, GOLDEN GARDENS, are pleased to present an album release show for the new album "How Brave The Hunted Wolves", already a favorite on KEXP 90.3!
"The songs on How Brave The Hunted Wolves are dreamlike guitar and synth odysseys that, sonically at least, resemble The Cure circa Disintegration if they had known about shoegaze." – Seattle Weekly
"Their music is [somewhere] between dream pop, shoegaze, and ambient… lost in a dream… that [owes] something to the visionary world; sometimes icy, sometimes filmic, infused with Angelo Badalamenti and David Lynch." – Sounds Behind The Corner (Italy)
http://www.wearegoldengardens.com
http://goldengardens.bandcamp.com
http://www.neonsigh.com/artists/goldengardens
* * *
Also playing this show are Soft Shadows, one of their first shows in this new configuration after spending the past year building an enthusiastic following under the name Sundaze. June + Thuy continue a sound that was described by QRO Magazine as "drenched in reverb and fender tremolos, electronic drums with sexy guitars with flavors of The Raveonettes, Serena-Maneesh, and Galaxie 500." Melancholic pop you can dance and rock out to. Full-length new album due to arrive in early 2013 on Neon Sigh.
http://www.soft-shadows.com
http://www.neonsigh.com/artists/softshadows
* * *
Rounding out this bill are Appendixes: Keeping with the Lynchian mood, Imagine Julee Cruise recording a sad, lo-fi pop document of music reminiscent of Twin Peaks, and you're on your way to discovering what Appendixes deliver at their live show. The recordings will fill your heart with bittersweet emotion as summer camp ends, however. Lofi pop presented in glorious hifi stereo.
"Appendixes play the type of lively, dreamy music that can illustrate the black and white moments of your day to day life. I was listening to their new EP, "False Color", as I walked to the grocery store today. It turned the usually monotonous experience of buying eggs and Sriracha into a bright and interesting trip in which I was swaying back and forth all the while (I got a few strange looks in the checkout line). The dreamy vocals, effects drenched guitars and distant, lo-fi drumming create colorful, introspective songs that stay in your head for hours after they've ended." -Benjamin Toledo (The Deli Portland)
http://appendixes.bandcamp.com
***
And JUST ADDED, the wonderful Kylmyys! Kylmyss is comprised of two musicians, Jason Chamberlain and Brian Kidd, both possessing broad musical backgrounds and palates. These innovative songsmiths have an affinity for synthesized sounds and melodies and have an uncanny ability to convey the often-unnoticed beauty of the interaction between the blue planet and its denizens.
Kylmyys invites you to immerse yourself into its entrancing compositions and be transported into the musical milieu of percussive glitches interwoven with lush ambient soundscapes— connecting yourself to the source of universal biorhythms.